If you're opening a hot yoga studio right now and are looking to outfit the place and do a search on the internet for "hot yoga flooring", you come up with results that range from concrete to carpet to wood flooring.  Problem is that there's a down side to every one of those alternatives.  Concrete is unyielding and take a lot of heat to get warm.  Carpet gets wet and stays wet and then you have to address problems like molds and mildew.  Wood can get damaged by the high temperatures, fluctuating humidity and pooling perspiration.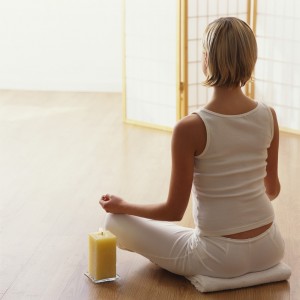 So, what's a hot yoga studio owner to do? 
Well, we have three practical solutions to their problem.
In this post, let's just look at the bamboo alternative.  We've talked a lot about bamboo, but really haven't addressed its usefulness for yoga.  Certainly its Eastern aesthetic and green renewable properties fit right into the yoga motif.  But its physical properties make it equally appropriate.
See, as we've discussed, bamboo is a grass, and not a hardwood.  As such, it does not have the expansion and contraction to the degree that wood does.  When wood gets wet or is exposed to high humidity, the grain will absorb water and cause the board to expand and this expansion can cause boards to cup.  Of course the opposite occurs when it dries out and the contraction can cause boards to gap and even crack.  Not so with bamboo.  Yes, the boards will expand with moisture, but not to the same degree.  It will also move back in place much faster when it is dried out.  Since it is not moving as dramatically, it is also less likely to crack.
Same goes with water from perspiration on top of the boards.  This can often cause cupping of the boards in a wood floor, but it is unlikely to affect bamboo much at all.  In fast, we have done lab testing where we have taken a board and laid a soaking wet towel on both bamboo and hardwood and left it there for an entire day.  In the hardwood samples, we found significant damage to the face of the board, even after the board was allowed to dry.  In the bamboo sample, we saw absolutely no effect.
So there are some points in favor of bamboo for your yoga flooring.  In the next post, we'll look at some of the other new alternatives for yoga rooms.