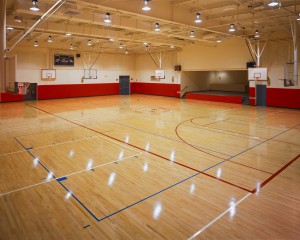 We haven't focused much on basketball flooring yet in our blog.  That's probably because the lion's share of the wood and bamboo flooring that we sell is for something other than basketball.  We've done basketball floors using both types of materials though and they both make for beautiful floors.  But there are a lot of fitness facilities that aren't being built with basketball courts in them as often as they once were.
There are four or five great companies whose focus is almost entirely on basketball and they are more concentrated on the school market than they are on fitness.  They typically use maple in a dizzying array of systems of subflooring that the maple flooring nails into.  The flooring almost always installed unfinished, and then several days are dedicated to sanding the entire floor and putting down several coats of finish on top of that.
When we've installed basketball flooring in health clubs, we typically use our free-floating clip system which is effective for basketball if we install it over thin foam. This  does not allow the floor to move as much as the foam that we would use for group exercise does.  If we used the type of foam that we do for group X, we would find that the floor does not allow the kind of ball bounce that you need in basketball.  That's kind of important….
Otherwise, the surface is the same and provides all the proper traction and impact isolation that you need for basketball – and we have the test results to illustrate that.  Because our floor is prefinished, and there is no need to construct a complex subfloor, our system is installed much faster than a typical nailed-in floor.  That's typically more important for a health club that offers basketball than it is for a school.  Our construction is also much lower to the existing floor than other systems, which makes transitioning into doorways much easier. 
We also have adapted our floor to be used over some of the more popular types of basketball subfloors.  But more about those in our next post.