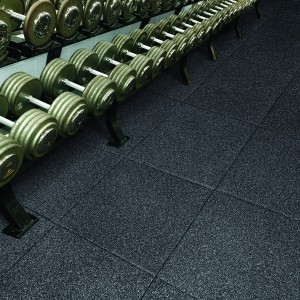 There was an article recently about some tenants who were forced to leave their building because of their proximity to a body building gym which created so much noise, it was difficult for the other tenants to conduct business.  Apparently the slamming of the weights was the source of this problem and this affected their neighbors' interaction with their clientele.  We've all been places where the gym is a floor above and we can hear the weight lifters occasionally dropping bars, but what caught my eye about this story was that these tenants were in a single story building!  That's right – the noise and reverberation moved right through the slab floor and into adjoining offices!
I'd never heard of this, but could certainly see how that could happen if the gym was not using a rubber floor, or even just a thin rubber one.  Vibrations and noise can move along a slab very easily, especially if very heavy weights are being used.
It's a shame that the gym owner didn't invest in a product like our Duraflex flooring.  At 1 1/4" thick, and being raised on the pedestals in its construction, Duraflex goes a long way to mitigating this problem.  The shock never even enters the slab in most cases.  In fact, Duraflex has been used in many upper floor installations when other products have not been thick enough to keep the sounds of dropping weights from hitting the floor.
As an example, our installation in a hotel in Iowa Citywas just cited in Athletic Business recently, for just that very reason.  The weight room was above one of the hotel's restaurants and the activities above had been disturbing patrons.  Until the installation of Duraflex, that is.
If you're running into problems with vibration and noise from free weights migrating into other spaces, give us a call and we can work with you to come up with a solution. proscar