During the recent college basketball and NBA playoffs, one of the things that a lot of people have remarked to us about recently is the huge gaps in the wood floors of the various arenas.  They're big enough to be noticed on TV, especially when the camera shows the free throw lane from above.  Depending on the court, there can be just one or two or several of them in that small area.  Most people are surprised to see them because from the distance that we watch most games on TV or even in the stands, the floors look absolutely tight and flawless.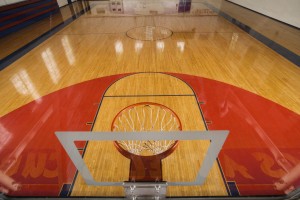 But, in fact, they are not flawless.  Gaps  are everywhere, and there are a couple of reasons for that.  First, many wood floors in arenas are made in panels, so that the floor can be taken up and replaced for other events that happen in the arena.  Panel floors do show more noticeable gapping because it occurs in an unnaturally straight line and the panels can not be a tight as boards that are nailed directly next to each other.  Second, most nailed in gym floors need expansion gaps to be placed every few rows throughout the floor, to allow the floor to expand and contract throughout the seasons.  The point is that these gaps do exist throughout the floors and they do not seem to affect the play of high level athletes.
Even floating floors using a clip system can show gaps from time to time, especially in drier seasons.  The concept of a floating floor is that the entire floor should shrink or expand as a unit and the gaps should only be around the outside of the flooring along the walls.  However, in especially dry periods, the boards may contract along the clip, creating slight gaps between each board.  This is not something that you should be concerned about – the gaps will close up when we come to a more humid time of the years.  In most floors, if you can slide a credit card between boards of the floor, you're still okay.  It's only when the gapping gets any wider, or if the gaps don't close up in the summer, should you be a little concerned.
That might be a good time to drop us an email with pictures and let us take a look at whether this is something you should be concerned about.  Actually, you should feel free to email or call us any time that you have a concern about your floor.  But please take some pictures on your phone, showing the area that you're concerned about so we will have a better idea of how best to get the situation fixed.