About
Our name tells you what we're committed to – delivering quality fitness floors that are built to last. We value your input so please feel free to contact us at any time if you have questions or comments about our products. We look forward to serving you.
Our History
Fitness Flooring was born from a company which started over 30 years ago by Phil Trotter, Jr., a young health club builder and operator. He began going around the country specializing in constructing Challenger racquetball courts. Over time, his company's reputation for building the best courts in the industry made it the largest racquetball court construction company in the country.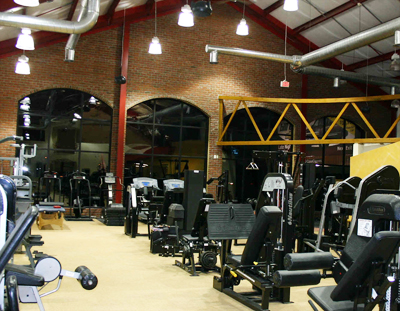 Part of what lead to this renown was the high quality flooring that he utilized as a playing surface. In the 1980s as racquetball's popularity began to wane, Phil recognized the emergence of a new activity taking over health clubs – aerobics. Taking the existing flooring that he had used in racquetball courts, he added a thick foam layer that absorbed the impact from participants repeatedly landing on the floor and in 1982, installed the first Exerflex floor at Sante West in Northern California.
Throughout the '80's and into the '90's the company was instrumental in fostering the aerobics movement and creating the Exerflex brand. Exerflex was installed in a number of high profile research labs, including Dr. Kenneth Cooper's Clinic, and the Human Performance Labs at San Diego State University, where the first research on aerobic exercise was being conducted by Dr. Peter Francis. Additionally, Exerflex appeared as the official floor of the Crystal Light Aerobics Championships, Joannie Greggins' syndicated Morning Stretch aerobics television show, and in countless aerobics videos.
In 1995, Phil turned his energies towards developing new aerobic programs and was instrumental in the introduction of Step Reebok and the Resist-A-Ball, among a number of other products. He passed his flooring business on to his employees and continues to develop new products for the fitness industry.
Since then, the new company that was formed, Fitness Flooring, has continued to be actively involved in not only group exercise, but also building its product base of quality flooring for all fitness applications.
We have developed a number of flooring innovations – either specifically manufactured for us, or in partnership with manufacturers that we have partnered with to develop fitness floorings.  Such innovative solutions such as Zenterra bamboo flooring, and the new Exterra flooring technology are some examples of the former, while Duraflex and Flecks are examples of great manufacturing partnerships. 
We continue to innovate and look for quality manufacturers to partner with in our constant search for superior products that meet the needs of our industry.